Workshops
Yoga is not about reaching enlightenment, reducing pain or relieving suffering, rather it's a process of learning how to abide in yourself, and surf the waves of life. Maintaining a yoga practice is a gift of love to yourself.  Most of us can't go it alone, so the coming together with others on a similar path provides us with support.
Workshops offered by Flowing Life provide an opportunity to come together to explore the richness of the science of yoga.
Winter Yin Yoga Workshop
Venue: 5th Element Wellness
Sunday 24th June 2018
1 – 3 pm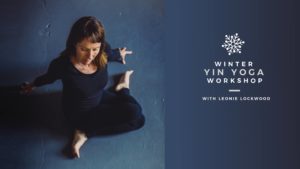 Self compassion plays a large part in the reduction of fear. As an emotion, fear is associated with Winter in Traditional Chinese Medicine. In the olden days, Winter was often a time of barren earth, lean meals if any, and cold, hard, days. Whilst we don't have this uncertainty these days in Western society, we have other fears and uncertainties. By tuning into self compassion practices, we can help allay some of these, let our nervous system dial down and become comfortable with the unknown.