About Leonie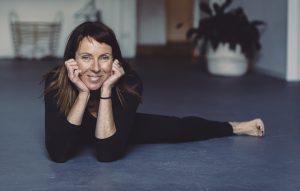 I've been dabbling in yoga for most of my adult life. But the magic really started to happen around 15 years ago, when I began practicing yoga seriously and consistently.
Yoga ignited my joi de vivre. It reinvigorated my mind and body. I moved (slowly but surely) from miserable train wreck, to confident, content woman, doing my thing. Through yoga, I learnt that remarkable growth can take place during the most daunting periods of transition.
Wanting to share the transformational power of yoga with others, I began teaching in 2010. I hold multiple certifications in yoga, clinical Pilates, mediation, Thai yoga massage and remedial massage. I am also a yoga teacher trainer, specialising in Yin yoga, and I run yoga retreats across rural Victoria.
My yogic studies have taken me to Indian ashrams, Nepalese mountains, Thai temples and, above all, to amazing teachers, including my mentor Paul Grilley – the Yin yoga pioneer – whom I study with in the US each year.
My experiences, both as a teacher and as a student, have helped me realise that yoga can change your relationship to yourself and the world around you. I would be honoured to be part of your journey and to support you to use yoga to connect with your whole self.