About Leonie Lockwood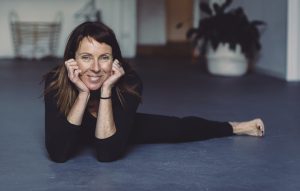 The process of change starts within and if as a teacher we want to assist others in their endeavour to surf the waves of life with equanimity, then we must firstly start with enquiry into our own self and motives.
Our ability to ride the peaks and troughs of life can be learnt. With regular practice, dedicated focus and self reflection, we can find simplicity and space within the complex nature of our current world. This might seem a little daunting, but investment in small steps now, translates to extraordinary change over the years. I'll teach you how to feel your body, so you can shift away from overthinking and back into a stronger connection with your full self.
I've been dabbling in yoga for over 30 years, but practicing seriously and consistently now for over 15 years and teaching since 2010. In this time, I've moved from being a miserable trainwreck, to a confident happy woman, doing my thing. Along the way my yogic studies have taken me to amazing teachers and ashrams in India, mountainous peaks in Nepal, temples in Thailand and annually to the United States to study with international leader and pioneer in yin yoga – Paul Grilley, who I am proud to call mentor. I have multiple certifications in yoga, clinical pilates, mediation, Thai massage, remedial massage and regularly run retreats and Yin yoga teacher trainings.
I know that the most remarkable growth can occur in those periods of transition, that may often at face value, seem to be the worst and I would be honoured to be part of that journey with you.
Change, step by step
I don't advocate massive overnight change because this type of change isn't normal. I believe growth and development occurs through small steps which allow for authentic integration into your current lifestyle. Things that no longer help or serve you will automatically just drop away without effort.
Yoga changed my relationship to myself, ignited my joi de vivre and reinvigorated my mind and body. It has my back through good and bad. This is the journey I can assist you with, should you choose to make it. I no longer think 'is this it', but rather how wonderfully expansive life can be if I allow it. Life is a work in progress.
In my time in the homelessness sector, I've seen positive changes take place in seemingly intractable people in impossible situations, and I've seen countless positive changes in people after doing yoga for a while. Yoga changes your relationship to yourself and the world around you, if that's your desire and you're willing to take the necessary steps. All gems must be polished a little every day to retain their shine and clarity. Similarly, yoga helps us polish ourself daily, bringing greater fluidity, strength and clarity to body and mind.